Indiana Bones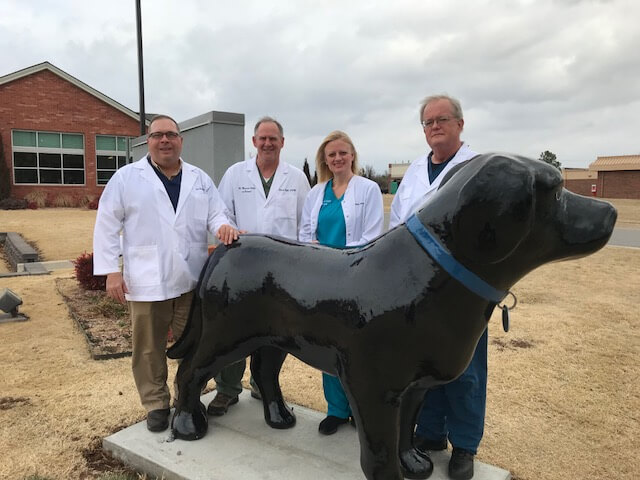 Recently returned from his latest expedition, Indiana Bones, our fearless and amazing guard dog, is back home and will remain with us at Pet Medical Center of Edmond until his next adventure. During his recent Raiders of the Lost Arf campaign, Indy recovered the Bark of the Covenant and returned it to safe paws, where it will be kept hidden forever from evil.
As a multilingual pooch in animal speak and human speak, Indiana Bones is here to not only protect our hospital, but to reassure your pets that we have the best veterinary services available at PMCOE!
Before we adopted him, it was hard for us to communicate with our pet patients that our team was here to help them, not hurt them. But ever since Indiana Bones returned from the Kennel of Doom—where he rescued puppies and safely brought them home—he has been able to successfully tell our patients (even the kitty cats) that we are AAHA-accredited, which means that all pets are always in safe, caring, human hands.
We at PMCOE are so grateful to have Indiana Bones as our guard dog and mascot, and we hope that you and your pets all get to know him. Hopefully Indy stays put for a while—he is, after all, an international superhero dog and bark-eologist—so who knows what his next adventure will be? We have a feeling that Indiana Bones and the Last Chewsade could happen soon, and when it does, we'll be here at Pet Medical Center of Edmond, awaiting his safe return.
Our staff hopes Indy will never get lost during his expeditions, but if he does, we can always track him down since he is microchipped—hopefully your pets are as well, and if not, PMCOE offers microchipping for our clients, so make an appointment today in case your pet goes missing.
Please enjoy these pictures of Indiana Bones hanging out in our hospital and getting a wellness exam (have you brought your pet in for a checkup lately?). Don't forget to share these images with your animal pal to show them that our state-of-the-art medical facility is safe and comfortable, and our staff is experienced, caring and compassionate!